Over the last couple of months we have been working with Mosaic Street Ministry in the work that Denie Tackett has been doing.  This weekend was yet another wonderful showing of love and caring that this ministry does on a regular basis.  The amazing thing was that they got no credit for the wedding reception in our local newspaper.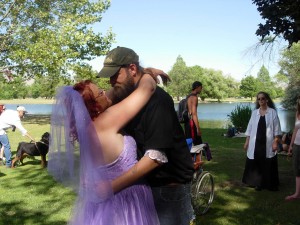 Working behind the scenes I know the reception would have been very small indeed when it came down to feeding everyone.  There was an unusual amount of help.  Normally there are only 4-5 of us behind the table and Denie has done it with as few as three dedicated workers.  This weekend was a high profile event and the help came out from everywhere.  Little bowls of this and that.  People I have not seen and I sure Denie had not seen before where there.
The important point is not what they did this weekend but what they will be doing next.  Will they be behind the table next week?  Will they bring the food to help this struggling ministry?  It is hard to say or conceive.  The Bible tells us that when we are in service we are do be humble and loving.  This I see every week in the arms and heart of this ministry.  Please understand they where all wonderful and the food was enjoyed by all.  And each of us does what we are called to do to help.
Mosaic doesn't look for the accolades, they look towards letting each one that goes through the line see that they are cared about and their lives matter.  In just a couple of months I have learned more about love and humility than I ever thought I would.  Blessed are the meek (humble) for they shall inherit the earth.  I know God has a plan for this small and dedicated group.  I know He knows it is not about the accolades for them, it is all about the people.
I have seen the tears in her eyes when there isn't enough food to feed the demand.  I have seen her love each one as they come through the line.  I have seen this family of friends take care of one another and watch out for one another.  A troupe of misfits to society in some one else's eyes being the arms of God each and every weekend.  Not polished.  Without a food bank and a ton of helpers, they give it all they have each and every weekend.
They may never get in the newspaper, but I guarantee God knows their hearts.  It is my honor to stand the line with them on the weekends and make new friends and speak life into those going through the line.
God bless them.  You can read more about Mosaic Street Ministries here:
Find them on Facebook:  Click Here
Read Denie blog: Click Here
Be Blessed and Be a Blessing to someone Today!
Rick